Nouvelle production de Tistou les pouces verts de Sauguet à l'Opéra de Rouen
February 2017 28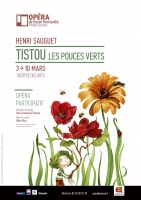 Paul-Emmanuel THOMAS dirigera 11 représentations de l'opéra Tistou les pouces verts d'Henri Sauguet à l'Opéra de Rouen. Cette nouvelle production est mise en scène par Gilles Rico.
L'opéra participatif Tistou les pouces verts va réunir des milliers de personnes prêtes à chanter et à interagir avec les artistes sur scène. Teinté d'humour et de poésie, cet opéra d'Henri Sauguet raconte les aventures d'un petit garçon qui pose un regard neuf sur la vie. Parce qu'il s'endort à l'école, Tistou suit les leçons de Monsieur Moustache, le jardinier de ses parents, et découvre qu'il a un don, celui de faire pousser des fleurs...
Internet link

Great success of the creation of the symphonic project David Bowie
February 2017 02

Symphonic project David Bowie, l'homme qui venait d'ailleurs, for the Festival C'est pas Classique in Nice France.

On January 10, David Robert JONES, David BOWIE, died.
It is to this immense artist that this program using a symphonic orchestra, enriched with a rhythmic rock and 4 singers, pays tribute under the direction of Paul-Emmanuel THOMAS.
Arranged and orchestrated by Fred LUZIGNANT, the 20 titles that compose this symphonic tribute are organized in 4 chapters evoking the different facets of the work of David BOWIE. Alternating planetary hits and "underground", this celebration of a singular and universal work is sublimated by the mix of orchestral timbres, offering a vibrant and moving tribute to one of the greatest contemporary musicians.
Internet link

Tour dell'Orchestra Filarmonica del Piemonte
January 2017 01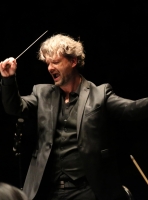 Per celebrare il capodanno con la musica, l'Orchestra Filarmonica del Piemonte ha girato l'Italia e la Francia sotto la direzione di Paul-Emmanuel Thomas in un programma di Puccini, Verdi, Strauss e Bizet.
© 2010 Paul-Emmanuel THOMAS. All rights reserved.